Abale-chan, also known as Caramel Man 23, is an android built by Dr. Mashirito Jr. as an opposite of Arale Norimaki.
Appearance
Abale is an android with the same physical appearance as Arale Norimaki but with a more angry expression. She wears black sunglasses with a blue tint, a black beanie with "ABALE" written in red, a black and red t-shirt with a skull on the front, black, spiky wristbands, blue jean shorts, brown boots and red socks. She also wears an earring on her left ear and a silver chain with a cross emblem.
Personality
History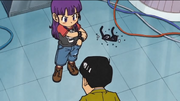 Abale is designed to be more powerful than both Arale Norimaki and Obotchaman, but she has a rebellious nature and simply acts like a typical ill-behaved child. She appears to share the same abilities as Arale, and uses her superhuman speed to pretend that she is driving a motocycle.
She cares very little for her creator Dr. Mashirito Jr. and refuses to listen to orders. She is against being evil, saying that even though she is a 'bad girl' it does not automatically make her a bad person.
In her appearance in Dr. Mashirito and Abale-chan, in spite of itself, she successfully contains the Tech-Tech alien invasion.
Gallery
Trivia
Abale's name (暴れ Abare) means "rampage" in Japanese.
Community content is available under
CC-BY-SA
unless otherwise noted.