Arale on the Loose: Part 1 is the 14th chapter of the Dr. Slump manga. Its sequel is "Arale on the Loose: Part 2".
Summary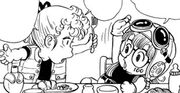 During lunchtime, Arale Norimaki is persuaded to eat by Akane (under the pretense it'll make her grow much taller) and drinks alcohol brought by Akane Kimidori. Their teacher, Midori Yamabuki, remarks that Arale is drunk and punishes the two girls.
A xenomorph from the movie Alien appears on panel 45, claiming to be the "other artist responsible for this manga."