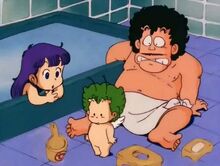 A Bath is the method of cleaning ones naked self in a body of water located in a bathroom. First seen in the chapter "Is It a Girl? Is It a Boy!?" and episode "Huh?! Is it a Boy? Is it a Girl?" where Senbei Norimaki and Arale Norimaki discover that Gatchan has wings.
In "The Great Arale-Eye Caper: Part 2", Senbei comes up with a scheme of having Arale go over to Anguirus Apartments to take a bath with Midori as an excuse to watch Midori bathe using the camera he hid in Senbei's eye but since Arale took her glasses in the bath, the picture was blurry.
In "Happy Honeymoon Drive", Senbei attempts to ask to take a bath with Midori since they are now married, but ends up hesitating took long and she ends up already having her bath by the time he gets ready to ask.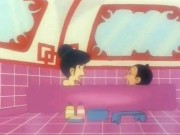 In "The Lensmen", Senbei and Tsuruten go around Penguin Village looking at girls while wearing the See-Thru Glasses and they end up going into the girls side of the Penguin Village Bath House not knowing that they are actually peeping on girls bathing.
In "Gatchan You're Great!!", Obotchaman ends up falling into the Reh Tsu Goh where he lands in the bathtub where Tsuntsunodanoteiyugo happened to be bathing in it at the time.
In the film Dr. Slump and Arale-chan: N-cha!! Trembling Heart of the Summer, one of Vandora's traps in the monsters hotel was the Hot Spring baths.
Community content is available under
CC-BY-SA
unless otherwise noted.