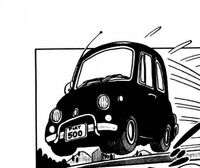 Cars (車) are vehicles meant for land transportation. They are extremely common vehicles driven by the people of Earth.
Overview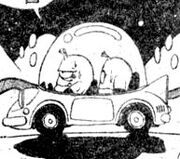 Senbei Norimaki owns several different cars; he is seen driving Arale Norimaki to school in one. Senbei once built a car for King Nikochan, not knowing he was an alien and wanted a vehicle to travel to space instead of a car.
The policemen Gala and Pagos's Police Car(Subaru 360 in original anime, Jaguar Mk2 in remake anime) is regularly destroyed by Arale as a recurring joke in the Dr. Slump series.
Suppaman uses a car while in his secret identity, Kenta Kuraaku. General Blue steals Suppaman's car in Dragon Ball, in order to go to Norimaki Residence and steal a plane.
The Shiverman owns a car that has the shape of a dog.
The car is the vehicle Midori Yamabuki chose for the race organized in the "Penguin Gran Prix" chapters. Midori also owns a Fiat 500(or Abarth 1000TC(Fiat 600-based racing car)in remake anime),[1] like Kenta Kuraaku. She also owns another car such as Classic Mini Cooper S in remake anime.[2]
Rocky, the main protagonis of the spin-off manga Rocky, owns a race car. He is constantly committing speeding with it, but will eventually lose it in a car accident.
Gallery
References
Community content is available under
CC-BY-SA
unless otherwise noted.