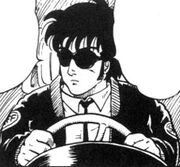 Cobalt Blue is a protagonist in the manga and movie Pink. He and Pink also make a cameo in the movie Dr. Slump and Arale-chan: N-cha! Love Comes From Penguin Village.
Biography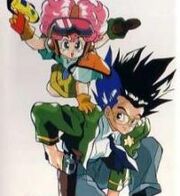 Cobalt Blue is a sheriff said to be the best detective in the world, and Pink secretly loves him. After undergoing several burglaries, the Silver Company calls Cobalt Blue to investigate and apprehend the bandit. With little information to go by, Blue comes across Pink's home, which he finds suspicious as there is a lush palm tree thriving amidst the drought. He asks her a few questions, but comes with nothing despite all the evidence around him.
Later that night, Cobalt Blue finally puts together that the bandit and Pink are the same person and goes after her. He finds her in the Silver Company headquarters and saves her just as a powerful samurai was about to kill her. Pink quickly tells Blue she is on a mission to rescue the god of rain Gorosuke Kaminari and takes Blue to the basement where Kaminari is. Cobalt Blue eventually discovers the truth about this history of water: the drought is the result of the Silver Company holding Kaminari prisoner to use him for their manufacture water. The good sheriff and the pretty thief team up and ultimately deliver the god of rain, who then proceeds to make up for lost time and produces rain. Unfortunately, he goes overboard and the land ends completely flooded, with Blue and Pink using an umbrella as a boat.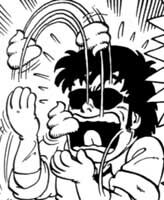 Trivia
Gallery