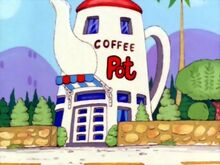 The Coffee Pot (コーヒーポット) is the Penguin Village cafe where Aoi Kimidori works. It is also the building the Kimidori family live in.
Overview
The Coffee Pot is located on the north part of the village; east of the Soramame Barber Shop and south of the Anguirus Apartments. Its address is 5 Platypus, Dr. Penguin Village, Gengoro Island. Many of the people of Penguin Village hang out here. This is the first place Senbei Norimaki took Arale Norimaki after she was created. Senbei's creation Miss. Akiko ends up working there after she leaves the Norimaki Residence.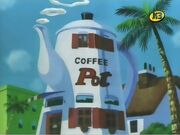 The Coffee Pot is a bit different in the Dr. Slump remake: it is white on the top instead of red, plus the building is more red than blue.
Residents
Video Games