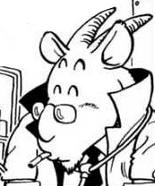 Dr. Goat (Dr. 山羊, Dokutā Yagi) is a doctor who appears in Today's Highlight Island and Dr. Slump. Dr. Goat is stated to be able to heal everything: humans, animals, radios, cars, and sicknesses; but he is not very serious. He always smokes, even while working.
Biography
Today's Highlight Island
In Today's Highlight Island, Dr. Goat takes care of the greedy boy Kanta who is suffering from a toothache. He finds lots of insects nibbling Kanta's teeth, like a cockroach, a dragonfly, or a grasshopper. Then, instead of treating the boy in a regular manner, Dr. Goat tries original experiments to snatch the tooth, which makes Kanta suffer more than before. The boy beats the doctor after every attempt that makes him suffer. The doctor has no success, and Kanta goes back to junior high school with the decision not to eat. Kanta's tooth falls shortly after, and he eats everything he can to celebrate this and becomes obese. His comrades take him to Dr. Goat again, but the doctor refuses to treat the bully, remembering the boy's aggressive temperament.
Dr. Slump
Dr. Goat appears in the Dr. Slump chapter "Heel, Achilles!". He heals Arale Norimaki's dog, Poop, who was crashed from a car. He portrays the mayor of Penguin Village in the chapter "My Toilet Paper".
Dr. Goat appears again in "Mammoth Midori: Part 2", taking care of Midori Yamabuki. He helps Senbei Norimaki, Arale, and Gatchan dislodge a deadly mosquito from Midori's body with the Big-Small Ray Gun.
Gallery
Community content is available under
CC-BY-SA
unless otherwise noted.