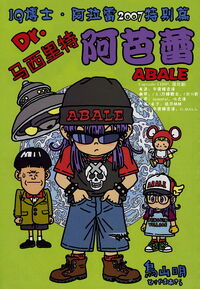 Dr. Mashirito and Abale-chan (Dr.SLUMP Dr.マシリト アバレちゃん) is a one-shot spin-off by Akira Toriyama of his Dr. Slump series. This one-shot was published on March 6, 2007 in Monthly Shōnen Jump 2007 #4, and was adapted into a five-minute film which was released three days earlier on March 3, 2007.
Summary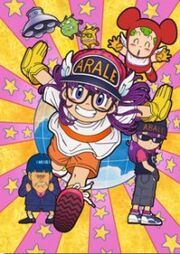 Dr. Mashirito and Abale-chan centers around Dr. Mashirito Jr. and his creation Abale, who serves as a rebellious opposite of the protagonist Arale Norimaki.
About a year after the end of Dr. Slump, Dr. Mashirito Jr. returns to avenge his father Dr. Mashirito, the sworn enemy of Senbei Norimaki. He makes an android identical to Arale in every way, except for her personality. He gives the name "Abale" (meaning "rampage" or "brawl") to this android. In spite of Mashirito's evil intentions, Abale turns out merely to have a bad attitude, and she successfully contains the Tech-Tech aliens' invasion in Arale's absence.
Release
Dr. Mashirito and Abale-chan was released with color pages, on the occasion of the promotion of the Dr. Slump DVD Box. This short story was adapted into a five-minute animated film that was released on March 3, 2007, and shown alongside the theatrical release of the movie One Piece: The Desert Princess and the Pirates - Adventures in Alabasta. It was later included in Dr. Slump Movie Box.
Trivia
The Tech-Tech aliens look like the aliens in the second Nekomajin chapter, "Neko Majin ga Iru 2", but they are not the same. Toriyama explained in an interview that the aliens he draw generally have this sort of design and, at the time, he enjoyed drawing Nekomajin, so when aliens appeared in Abale-chan, he did not even intend to come up with a new design.[1]
References