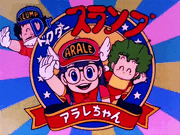 Dr. Slump Arale-chan (Dr.スランプ アラレちゃん) is the original anime adaption to the manga Dr. Slump and ran from 1981 to 1986 and spanned 243 episodes.
Episodes
Main article: List of Dr. Slump Arale-chan Episodes

Release
Main article: Slump Box
The original 1980s series ("Dr. Slump Arale-chan") will be released on Region 2 DVD in Japan in two parts. The "N'cha collection" was released in March 2007.[1] The "Hoyoyo Collection" was released in September 2007.
English Distribution
It is unknown if the anime will be dubbed in the English language, even though it was licensed by Harmony Gold, but only had a segment of a single episode dubbed before the company lost the rights shortly after. A Discotek Dub seem possible at the moment since members that work at Discotek expressed interest in dubbing the series but nothing is confirmed As of 2018. A Fandub made by KingMation Productions will be on Youtube sometime in 2019 sneak peak video is next to the link for the Harmony Gold dub.
Harmony Gold English Dub link
https://mega.nz/#!qBRSmBAJ!fe0mJ1ZNL_5lrar92pIIJaAt-OX0EVoNY90kUsBp5uc
Characters & Cast
Names are in the Western order, with the family name after the given name.
Staff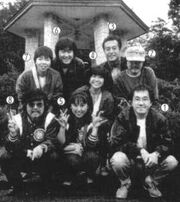 Producers: Tokizō Tsuchiya (eps 1-243), Keizo Shichijo, Seiichi Hiruta
Script: Masaki Tsuji, Michiru Shimada, Shunichi Yukimuro, Yasushi Hirano, Tomoko Konparu, Takao Koyama, Toshiki Inoue
Animation Supervisor: Toyoo Ashida
Animation Director & Character Designs: Sachio Ebisawa, Minoru Maeda, Katsuyoshi Nakatsuru
Key Animation: Masayuki Uchiyama, Hiromi Matsushita, Mamito Tayama (1983), Yasuhiro Nakura
Music: Shunsuke Kikuchi
Gallery
References