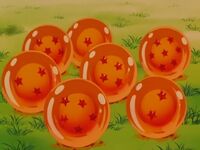 A Dragon Ball is a mystical artificact. There are seven balls all together and each one has a certain number of stars on it. When all seven are gathered together a mystical dragon named Shenlong is summond and grants the one that summons him a wish. Many corrupt people such as the Red Ribbon Army have been dedicated to gathering all these balls and plan grant selfish wishes such as World Domination, Eternal Life, Extreme Wealth, ect. Goku who was given the four star ball by his adopted grandfather prevents many of these wishes from being granted and treasures the four star ball more than any wish.
External links
Community content is available under
CC-BY-SA
unless otherwise noted.