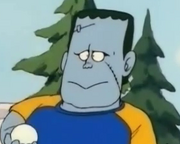 Frankenstein is a monster originally from the novel, Frankenstein that appears as a resident in Penguin Village and a classmate of Arale Norimaki.
History
The Birth of Arale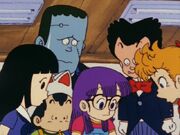 Main article: Volume 1: The Birth of Arale
He first appears in Here Comes Arale! in Midori Yamabuki's class on Arale's first day of school amazed from watching Arale operating on a dead frog and during P.E. class.
In Arale-chan Goes to School, the anime adaptation of Which Will It Be?, he is seen in the school halls after school.
Other Media
Dragon Ball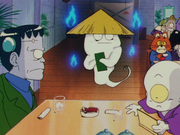 In the Dragon Ball series, he appears in the 7th episode of the second half of the anime adaptation known as Dragon Ball Z where he is seen in a monster cafe in other world. It is assumed he is not dead and may possibly be a resident or staff member due to him not having a halo over his head.