Jubei Norimaki (referred to as Grandpa Norimaki) is the father of Senbei's Father and the grandfather of Senbei Norimaki and Ryota. He is from Kuwagata Village.
History
Early Life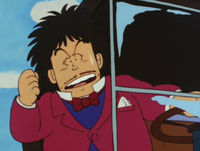 He was married in Penguin Village in 1931. In an anime filler segment at the end of Dumbfounded Senbei, Senbei and Midori from 1981 arrive in the past and crash his wedding.
In He'll Be Comin' Down the Mountain, he arrives in Penguin Village with his grandson Ryota to visit Senbei which took him two years from a ox drawn carriage. He and Ryota get introduced to every day modern technology and Senbei's new wife Midori. In He'll Be Goin' Up the Mountain, he reveals that Arale being Senbei's sister is a lie to Midori and then leaves at the end of the chapter with Ryota.
Trivia
His name is revealed as Jubei in episode 22 of Dr. Slump Arale-chan.
His first appearance in the anime has a massive inconsistency as he is seen driving a car but when he actually first appears in the manga, he isn't familiar with it or any kinds of technology.