Welcome to the Dr. Slump Wiki, the database for Akira Toriyama's manga and anime series Dr. Slump that anyone can edit.
We have had been going since January, 2008 and currently have 1,066 articles.
Dr. Slump and related media, characters and elements are © Akira Toriyama, Bird Studio, Shueisha Inc, Toei Animation Co. Ltd., Toei Company Ltd., and/or Fuji TV; unless otherwise noted.
Featured Image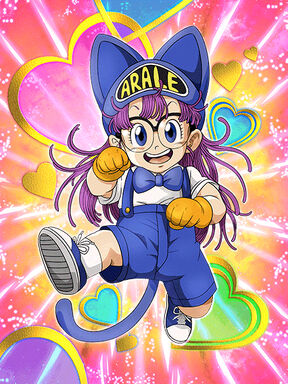 Impish innocence Arale Norimaki Dragon Ball Z Dokkan Battle artwork.
Did You Know?
Suppaman won first place in the survey conducted for the "Penguin Village I'm Number One!" contest in the category: "dumbest", with 4700 votes. He won by a landslide as the second place contender, King Nikochan, received merely a fraction of the votes at 1092.
Upcoming Anime Highlights