Jurassic World: Dominion Dominates Fandom Wikis - The Loop
Play Sound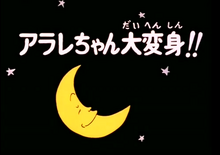 The Moon is the natural satellite of Earth. It is shown to be a living entity in Dr. Slump.
Overview
In "Hello, Moon!", Arale ends up preventing the extinction of many prehistoric species when she pushes a falling meteorite back into space, resulting in the creation of the moon.
The moon is first shown in Dr. Slump in "Here Comes Arale!" It appears again when Arale Norimaki frees a bear in the chapter "Bearly Friends!" The moon is next seen after Arale increased its size with the Big-Small Ray Gun in "The Big-Small Gun!" It is also shown in "The Time Slipper", and "Is It a Girl? Is It a Boy!?". Bubibinman bounces on the moon in "The Invader from Space", when he is attacked by Arale after he challenged her to Sumo Wrestling.
Arale Norimaki breaks the moon by throwing a rock at it in order to show her strength to a journalist in "Barber Shop Panic: Part 2"; the moon is shown living for the first time in this chapter. It is shown repaired in "The Story of Donbe" and "Kids Gone Wild".
The moon appears as a living crescent at the end of the chapter "Earth S.O.S.!: Part 2". The moon watches Senbei Norimaki looking for Mole Cricket in the grass at the end of "Arale's Big Change. In "Bye-Bye Super Power!", Senbei is sent up on the moon when he asks Arale to attack him, thinking he succeeded in reducing her strength. The moon is shown again as it makes a face in "Affairs of the Heart!" It also appears in "Monsters' Night", talking to one of Trampire's followers and making him transform into a werewolf. The moon also appears in "A Silent Night's Dream".
Caramel Man 001 breaks the moon throwing a punch a it in "Dr. Mashirito's Ambition: Part 1". It appears again as a crescent in "The Time Stoppers", "Chivil's Work", "Mr. Copy", and "Goo Ga Senbei". It is shown when the invaders approach Earth at the beginning of "The Biggest Bye'cha of All: Part One".
Arale pokes the moon using a pole at the end of "Spluk Spluk Phoo Phoo". It appears again as a crescent in "Cinderella, the Musical", "The Ho-yo-yo Gang, Part 2", and "Leave It to Akiko". Aoi Kimidori takes Arale and Gatchan on a car trip during which she ends up on the moon in "Super Driver".