Mr. Pig is a pig in Penguin Village that always announces the time of day.
Appearance
He is a bipedal pig that wears a dress coat, sunglasses and a bow tie with a handheld loudspeaker tied to the top of his head, and talks in a microphone announcing the time of day in Penguin Village.
History
The Birth of Arale
Main article: Volume 1: The Birth of Arale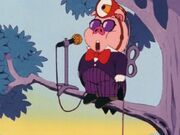 In Arale-chan's Birth, the anime adaptation of The Birth of Arale!, he makes an early debut where he stands on a tree branch and announces the morning in Penguin Village. In The Time Slipper, he makes his manga debut announcing the morning.
The Happy Doctor
Main article: Volume 4: The Happy Doctor
He appears in "Gatchan Goes for a Walk"
Monsters' Night
Main article: Volume 5: Monsters' Night
He appears in "Affairs of the Heart!"
The Crazy Honeymoon
Main article: Volume 9: The Crazy Honeymoon
He appears in "Today Is Truly a Day for Celebration!"
Other Media
Dragon Ball series
He appears in Dragon Ball announcing the afternoon in the crossover episode where Goku chases General Blue into the village.
Video Games
References