Nitro Norimaki is the second biological child of Senbei Norimaki and Midori Norimaki, and the younger sister of Turbo Norimaki. She was born sometime after the events of the final chapter Grand Finale: Invention Explosion! and before the beginning of the sequel series The Brief Return of Dr. Slump. Unlike her brother Turbo, Nitro does not have any powers and is normal.
History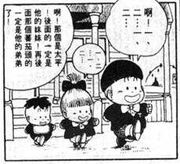 Her only appearance in the original manga is in Future Love where she is only seen briefly alongside Turbo and an unnamed younger brother during Obotchaman's trip 10 years into the future.
Her first birthday happens in Nitro-chan's Birthday.
Other media
Film Appearances
She has more recurring appearances in the Dr. Slump Returns, But Only For a Little While manga. She also appears in the seventh, eighth & ninth Dr. Slump films.
Trivia
Nitro and her younger brother are the only main members of the Norimaki household to not appear in any Dragon Ball media.
Gallery