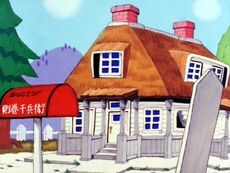 The Norimaki Residence is the home of Senbei Norimaki and, later, the rest of the members of the Norimaki family.
Overview
Its address is 1 Flying Squirrel, Dr. Penguin Village, Gengoro Island. The residence has two floors and a basement. Senbei once created a miniature version of the house, to control what happen to it and its residents.
Rooms
Second floor
Senbei's laboratory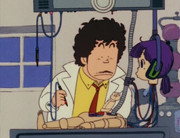 The laboratory is the first room seen in the Norimaki house. This room is located on the second floor of the house, and it is divided into two parts: the actual lab and a small workshop. The lab is where Senbei created Arale Norimaki and many of his other inventions. He spends most of his time in the workshop, working on his inventions.
Bedrooms
Two bedrooms are on the second floor. One is for Senbei, Midori Norimaki and Turbo Norimaki. The other is for Arale Norimaki and the Gatchans.
First floor
Bathroom
The bathroom is a typical Japanese bathroom beginning with a small room where clothing is stripped off and then the next room consists of a bathtub. It is located on the first floor, next to the toilet. The bathroom is first seen in "Is It a Girl? Is It a Boy!?".
Living room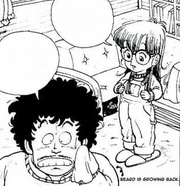 The living room is located on the first floor. It has an armchair and a table. It is first seen when Senbei gives Arale her clothes that he got for her at the store.
Library
The library is where the TV is located. It is located on the first floor of the house.
Kitchen
The kitchen is located on the first floor, next to the library.
Basement
The basement is where Senbei stores his inventions and other vehicles like the Super Mecha "Ping-Pong".
Residents
Video Games
Gallery