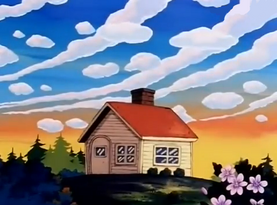 Obotchaman's House is a humble home that is owned by Obotchaman. The house was moved by Obotchaman to be close-by the Norimaki Residence.
The house was previously owned by Suppaman before Obotchaman accidentally stole it, thinking it was a vacancy.
Biography
Obotchaman carries Suppaman to his home to retrieve burn ointment for the wannabe hero. Suppaman realizes that his home was taken from Obotchaman, but can't tell him that the residence was his since he previously lied about not owning a home due to his busy hero schedule. Suppaman resides in the home for the episode while Obotchaman is out with his friends and plans malevolent schemes to get back at him for stealing his house. He sets up traps about the home to harm Obotchaman. When he returns back home, Obotchaman triggers the traps, but since he is an android, he isn't phased nor even realizes that they were there while he panics about finding his Robovita-A (which Suppaman threw away after thinking it was a beverage for him). Obotchaman ends up collapsing after failing to replenish energy with his supply. Suppaman thinks that his traps killed Obotchaman since he laid like a corpse. He flees the scene with death penalties blaring in his head. Arale eventually finds Obotchaman lifeless in his house and feeds him he Robovita-A, reviving him. Obotchaman wonders what happened to Suppaman and obliviously leaves the home with Arale. The group with Obotchaman find Suppaman and Suppaman freaks out over seeing Obotchaman, thinking he was a ghost. Suppaman doesn't get his home back.
The present Obotchaman travels ten years in the future to see if Arale ends up marrying him. It turns out they were and the couple reside in Obotchaman's house with their newborn child. Toriyama visits them in their residence in Let's Check Out 10 Years From Now Once More to ask for a guide around Penguin Village.
Community content is available under
CC-BY-SA
unless otherwise noted.