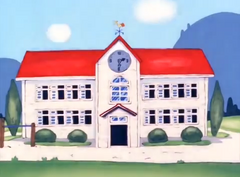 Penguin Village Middle School (ペンギン村中学校), also called Penguin Village Junior High, is the middle school in Penguin Village. It is located on the northwest part of the village. 65 students attend the school.[1]
Clubs
Baseball Club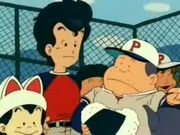 The Baseball Club is the first club Arale Norimaki tried out for when trying to look for a club. The head of the club is Taro Soramame. Other members of the club are Peasuke Soramame and a noticeably obese student who drinks from a boiling tea kettle.
Track Team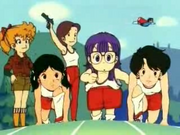 The Track Team is an athletic club for running headed by an unnamed girl with short brown hair. When Arale tried out for this club, she turned out to be too good for them.
Gentlemen's Club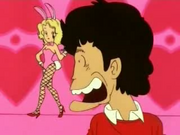 The Gentlemen's Club is one of the many clubs in the school and seems to specialize in entertainment for males. No members are directly shown but it seems to have atleast one girl dressed in a bunny costume part of the entertainment.
Staff
Students
Graduated 1980
Graduated 1982
Graduated 1984
Video Games
Gallery
References