The future unnamed third son of Senbei and Midori, appearing 10 years in the future along with Arale and Obotchaman's child and Poosuke Soramame. His name is unknown.
Appearance
His hair is orange, most likely because Midori's blonde, and Senbei's hair is black. He is also seen wearing clothes, a turquoise bib and red shoes. In the manga and remake he has black hair.
Overview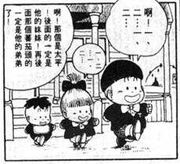 So far his unique appearances were in the original manga in the chapter "Future Love," in the anime episode "Securing a Future for Our Love," and "Back 10 years ago," as well as the remake.