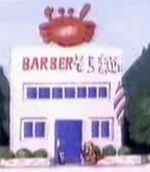 The Soramame Barber Shop (BARBER そらまめ Barber Soramame) is the barber shop in Penguin Village and the residence of the Soramame Family. It is located on the northern part of the village, north of the minefield, between the Penguin Village Middle School and the Coffee Pot. Its first appearance was in the manga chapter "Arale on the Loose Part 1".
Rooms
Barber Shop
The entrance to the building is the barbershop that is run by Kurikinton. It has more than one barber chairs and a mirrors even though Kurikinton is the only employee.
Taro and Peasuke's Bedroom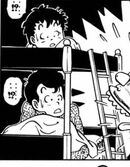 Taro and Peasuke both share a room in the house. They have bunk beds where Peasuke has top bunk and Taro has bottom. The only other things seen in this room are a dresser on the opposite side of the room and a desk in front of the window.
Family Room
The Family Room is seen as where the Soramame's eat there meals and watch TV. There is a small table in the room where they sit on cushions to eat and a TV in the corner.
Residents
Video Games
Gallery