Takao Koyama (小山高生; born April 21, 1948, in Akishima, Tokyo) is a Japanese screenwriter and novelist focusing on anime productions. He wrote the stories of all the Dragon Ball Z movies.
Biography
Takao Koyama graduated from Waseda University in 1972 and joined Tatsunoko Production as a story creator and a screenwriter. He left from Tatsunoko in 1975, but he was related to the Time Bokan series, one of the most successful anime series of Tatsunoko, from Time Bokan in 1975 to the last series, Itadakiman in 1983.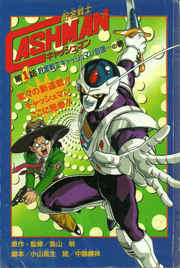 After leaving from Tatsunoko, he wrote a lot of screenplays such as Dr. Slump and Arale-chan: Hoyoyo!! Follow the Rescued Shark..., Dragon Ball Z, Dragon Quest, Go! Go! Ackman, Saint Seiya, and Sailor Moon for Toei Animation, High School! Kimengumi for Gallop/Studio Comet, Yawara! for Kitty Films, and Galaxy Angel for Madhouse.
In parallel with works as screenwriter, he is endeavoring to bring up young talents. In 1986, he found "Anime Scenario House" to train the young anime scenario writers. By 1987, young screenwriters such as Satoru Akahori, Hiroyuki Kawasaki, Katsuyuki Sumisawa, Keiko Nobumoto and Aya Matsui graduated from Koyama's school. The school became Brother Noppo, a company to support screenwriters, in 1988.
With the illustrator Katsuyoshi Nakatsuru, Takao Koyama wrote a Dr. Slump follow-up manga titled Dr. Slump Returns, But Only For a Little While. The manga was serialized in V-Jump from 1994 to 1996, and has been collected into four tankōbon volumes. He later worked on the 1997 Dr. Slump remake. Koyama and Nakatsuru made a second follow-up of one of Akira Toriyama's series in 1998, titled New Cashman. This second follow-up manga was supervised by Akira Toriyama himself.
In 1999, he on the "Special/Lifetime Achievement" Award at the 4th Animation Kobe. He is a professor at the Osaka University of Arts, Character Design Department.
Gallery
External links
Community content is available under
CC-BY-SA
unless otherwise noted.