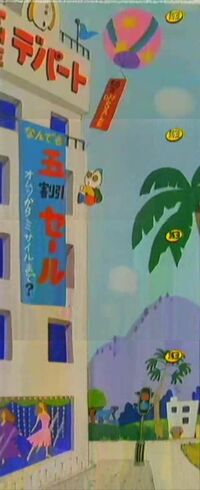 The Store (THEデパート, The Depāto; lit. "The Department Store") is the title to a department store in Penguin Village. It is located in the southwest part of the village.
Overview
The Store is where Senbei Norimaki went to buy clothes for Arale Norimaki when he first invented her. He had to dress up like a lady to buy her panties so the people at the store wouldn't think he was a pervert. It first appeared in the chapter "The Birth of Arale" and in the Dr. Slump & Arale-chan titled "Arale's Birth".
Employees
The store employees are unnamed. One notable employee is one who has a crooked neck. Senbei asked this crooked necked employee for a dress for his mother (he was lying so he can use it to disguise himself) and he recommended a school girl uniform. Another notable employee is a blonde woman who works in the underwear department.
Video Games
Gallery