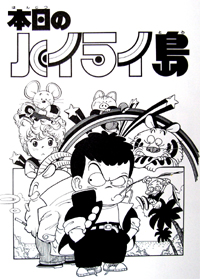 Today's Highlight Island (本日のハイライ島) is a one-shot manga by Akira Toriyama, first published on April 20, 1979 in Weekly Shōnen Jump. It is also featured in Akira Toriyama's Manga Theater Vol. 2. This manga lays the foundations for Dr. Slump, to which it shares many elements, including a similar setting. Also, the main characters for this manga, Kanta and Dr. Goat, have a brief appearances in Dr. Slump.
Overview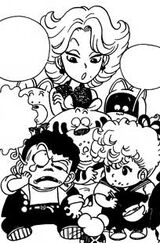 Today's Highlight Island takes place in the same universe as the Dr. Slump series. On an island surrounded by sea and mountains, the young Kanta is late for school. When he arrives, it is already the lunch time. After entering and eating inside the cafeteria pot, Kanta suddenly suffers from a toothache. Once the teacher is informed, one of the classmates leads Kanta to Dr. Goat, an incompetent dentist. On the sign in front of Dr. Goat's medical office, it is written that this doctor heal everything: humans, animals, cars, radios. Dr. Goat, who smokes while working, finds lots of insects nibbling Kanta's teeth, like a cockroach, a dragonfly, or a grasshopper. Then, instead of treating the boy in a regular manner, Dr. Goat uses him in fun experiments in order to try and snatch the tooth which makes Kanta suffer more than before. The bully beats the doctor after every attempts that make him suffer.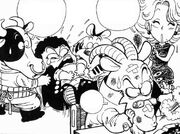 After many adventures, Kanta comes back to school and decides not to eat. Shortly after, his tooth finally falls. To celebrate this, the boy eats everything he can, and he becomes obese. His comrades take him to Dr. Goat again, but the doctor refuses to treat the bully, being mad at him for the aggressive beating he received the last time.
After 500 boards refused by Shueisha, Toriyama finally managed to get published with this news story. Today's Highlight Island was ranked a little better than Wonder Island, but despite a succession of gags, it did not win favor with readers and ended still poorly ranked.
Trivia
Several characters similar to those from this manga appear in the Dr. Slump chapter "The Big-City Student". Notably Rat and the caveman classmate who took Kanta to Dr. Goat's medical office (he also appears in the chapter "Stone Age Ho-Yo-Yo"). The Batman classmate also makes appearances in Dr. Slump.
One of Kanta's comrades has same hairstyle and face as Akane Kimidori, but is way much younger than Akane.
Gallery
Community content is available under
CC-BY-SA
unless otherwise noted.